How to Donate
1.The proceeds of the sales of posters will be donated.
We are selling posters at the gallery for $15, 70 percent of the proceeds will be delivered to Yamamoto in person and used to help the people still living in the temporary shelter and to buy school materials for damaged schools.
For those who are unable to come to the exhibit to purchase our posters, posters are available for purchase online.
Please be aware that there is a shipping fee.

Price

$40

(one set of 3 types of posters)

Shipping fee

Domestic (JAPAN) $2 / International $5

Payment

Credit Card (PayPal)

Shipping date

After your order has been processed, domestic will be sent by mail, and international will be shipped by flight.
Domestic (JAPAN) Order
$40 + Shipping $2
International Order
$40 + Shipping $5

2.You can donate using a credit card via our website.
Donations for Yamamoto-cho can be made using credit cards.
We are accepting donations in multiples of 1,000 JAPANESE YEN.
( )
We accept Visa or Master Card but please be reminded that in certain cases we may not be able to accept credit cards.
We will bill you in JAPANESE YEN and your card issuer will convert to your local currency, this figure is only an estimate of the conversion and does not include any charges your card issuer may levy.
3.You may also donate by sending a check to the address below.
Please may a check payable to "Nanka Miyagi Kenjin Kai."
LOST & FOUND PO BOX 1104 Torrance CA 90505-0104
Where it will go to
The money raised will be used by the Residents' Councils of the temporary housing in the town of Yamamoto and by the local elementary schools to buy emergency tools. There is an effort to bring people together to community rooms at temporary housing to help residents cope with lonelines and in many cases the heads of the Residents' Councils are paying the necessary administrative and other expenses out of their own pockets. Also there are needs by local elementary schools to buy emergency earthquake alert systems for each classroom. We hand-deliver the money raised to these people to make sure that money will be used by the people in need.
Details of donations
| | |
| --- | --- |
| Proceeds from sales of posters (823posters) | ¥654,465 |
| Money collected in Donation Box | ¥184,404 |
| Total Donations collected | ¥838,869 |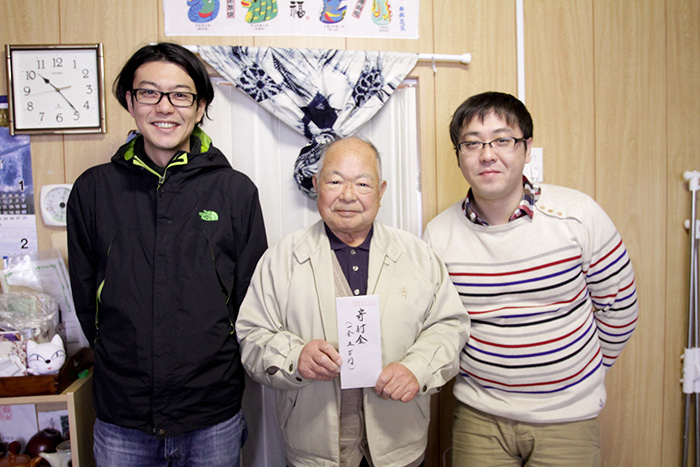 ---